Kali linux crack wpa2 brute force. Can I hack my WiFi (WPA2/PSK) without brute force using Kali Linux and only one wireless adapter? 2019-02-21
Kali linux crack wpa2 brute force
Rating: 9,4/10

790

reviews
How to Bruteforce Wifi Password with Kali Linux Tools? « Null Byte :: WonderHowTo
This was our tutorial about how to hack wifi using kali linux. Cleanup your cap file using wpacleanNext step will be converting the. With it you can see the activities on a network from a microscopic level coupled with pcap file access, customizable reports, advanced triggers, alerts, etc. Also, good dictionaries are huge. In cryptography, a brute-force attack consists of an attacker trying many passwords or passphrases with the hope of eventually guessing correctly. It is recommended that you do a live boot.
Next
How to Bruteforce Wifi Password with Kali Linux Tools? « Null Byte :: WonderHowTo
Using Samsung's built-in internet client seems to work fine, though, but submitting a password does nothing. We high recommend this for research or educational purpose only. Note that without this file, it will not succeed in practically hacking the Instagram account. Step 11: This concludes the external part of this tutorial. یوزرنیم هدف را وارد کرده و در نهایت فایل Pass. Only constraint is, you need to convert a.
Next
Learn All About Hacking: Hack any thing with Kali Linux(OS) wifi Hack WPA/WPA2 WPS
It got stuck multiple times during the process, and I had to ctrl+c my way out of it many times though ctrl+c didn't terminate the whole installer, just the little update popup. Hello World - hoping one of your geniuses could shed some light on a fluxion issue Im having. Sometimes, it keeps switching interfaces forever. You can use it to crack into web scanners, wireless networks, packet crafters, gmail, etc. Basically now you need to note down or copy the address listed below Interface. Step Two: Plugin your injection-capable wireless adapter, Unless your native computer wireless card supports it. After entering this command, hit enter.
Next
Kali Linux Howto's: How To Hack WPA/WPA2 Wi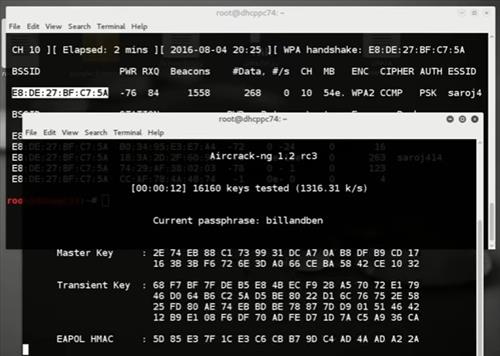 Due to factors such as data dependant branching, serialization, and Memory to name just a few , oclHashcat is not a catchall replacement for Hashcat. In other words, the hacker using the Brute Force, assumes all the possible passwords for an account, in order to finally reach the true answer. All the problems mentioned above, are well known on forums, and no 100% working solution could be found anywhere I do my homework before posting. Note that the issue may as well be in closed issues it would most probably be in closed issue. .
Next
Hack Wifi Using Fern WIfi Cracker in Kali Linux Very Easily
And believe me, its easy to guess 4 digits correct two times, than to guess 8 correct digits at once. You might also need to add --ignore-negative-one if aireplay demands it. Step 6 — As soon as the target wifi name appears on your screen simply press ctrl+C from your keyboard. Wifite2 is a free and open-source Python-based wireless network auditing utility tool designed to work perfectly with pen-testing distros. Aircrack-ng best WiFi penetration testing tool used by hackers. If you need to check on your partner's sincerity, employee's honesty, recover your email passwords, Social networks i.
Next
How to Hack WiFi Using Kali Linux, Crack WPA / WPA2
What you need is you, the attacker, a client who'll connect to the wireless network, and the wireless access point. Now if the hashes match, we know what plain text password gave rise to the hash, thus we know the password. This may take a few minutes to several months, which in many cases will also fail. WiFi Hacking Tool Aircrack-ng 1. John the Ripper is another popular cracking tool used in the penetration testing and hacking community.
Next
Kali Linux Howto's: How To Hack WPA/WPA2 Wi
نام و نام خانوادگی هدف را وارد نمایید. To know what your repository should look like,. Social engineering is the key here. In case any new issues arise with the repository, I'll update you guys again! However, I haven't got the opportunity to test the application. In the past, we have trained ways to , which is best suited for using programs designed to monitor and control the Instagram. The fake page just reloads as if nothing was entered, and no password appears to the right of the client's name as shown in the tutorial video. If you are a Linux user, you will simply know how to run a script on Linux.
Next
Hacking WPA/WPA2 Bruteforce
Any other Linux distro might work, but you'll need to install Reaver on your own. However, it had a hole, which is now well known, and tools like reaver can exploit it in a single line statement. Otherwise, you can not open the file. That's all the information you need. I don't think I should have typed sudo while already root, so I tried to install without sudo, but it made no difference. As it should look basically identical to the real, the target user shouldn't hesitate to give us the password. Brute Force attack is a kind of attack on personal accounts and encrypted pages through the password guessing.
Next
Hack Wifi Using Fern WIfi Cracker in Kali Linux Very Easily
It does not work well inside Virtual machines. It doesnt even start deauth. Reading what I wrote above, I realize that my explanation is a bit too technical and I should make it easier to understand. I hope you now know where I am getting at. So basically, the client sends 8 digit pins to the access point, which verifies it and then allows the client to connect. Some computers have network cards capable of this from the factory.
Next